Winter is here when it comes to the inevitable need to crank up the heat. Turning the heat up is the first step in making your home warm and cozy. But just because it's cold doesn't mean you have to suffer through every night in a sauna-like house. We've got some easy tips for keeping your home warm without draining your bank account or nuking yourself in front of Netflix all day. Just follow these simple steps:
You may be surprised by how much you'll save on your heating bill if you turn down the heat a few degrees. This will help keep your home feeling cozy while still saving money.
For example, when it's 40 degrees Fahrenheit outside, turning down your thermostat by just 5 degrees can save $150 per year on your heating bill! That's like having an extra large pizza every month! And what better way to stay warm than with pizza?
If turning up (or down) the temperature doesn't do the trick for you; there are some other ways of staying comfortable during these cold winter months:
If you live in an older home, you may need to ask your landlord to adjust the thermostat.
If you live in an older home, it is likely; your landlord has not yet installed a programmable thermostat. The good news is that these gadgets are simple to install, and there are plenty of tutorials online if you need guidance.
Call an electrician to do the job for you if your landlord won't help out and if you're uncomfortable tinkering with ancient wiring yourself. Most should be able to come right over and set up a new thermostat in minutes—and at those prices (around $100 per hour), it's worth spending the money just so that they can do all the dirty work while we sit back and enjoy hot showers in a house with our cozy little furnaces going strong!
Install a programmable thermostat and set it at 68 degrees.
According to the U.S. Department of Energy, installing a programmable thermostat can save up to 10-15% on heating bills. This is because it allows you to set your home's temperature at 68 degrees when you are away and adjust it before returning home.
Now that we've covered how much money can be saved by this simple step, let's talk about comfort! Many people like their homes warmer than 68 degrees because they feel more comfortable in higher temperatures (myself included). But this time of year, when we turn on our heaters, it's crucial that we set our thermostats at an appropriate temperature for our bodies as well as for the house itself – not just ourselves alone in an empty room without any insulation or other forms of protection against cold drafts! People who live in older homes may find themselves feeling drafty from breezes coming from windows or doors even though those rooms might otherwise feel warm enough during colder months thanks to newer building materials such as double-pane glass windows installed within them over time due to improvements made over years past since construction began back when these houses were built initially decades ago…
Keep the air moving by opening the doors between rooms and using fans to remove excess heat.
To keep your house warm, you'll need to remove excess heat. The best way to do this is by opening the doors between rooms and turning on fans around the house.
Suppose you don't have a fan; open windows instead. If you can't open them, use a box fan in the room that needs more ventilation.
If all else fails: don't use a ceiling fan!
Open shades and blinds during the day and close them at night.
One quick way to keep your home warm this winter is by opening your blinds and shades during the day. Natural light will help heat your room while closing them at night can keep the warmth.
If you need more privacy or want to block light and sound, try using curtains instead of blinds or shades. Curtains are much more effective at blocking noise than any other type of window covering, so if you live on a busy street or behind an airport runway, they're worth investing in!
Look for gaps where cold drafts can seep in, especially around windows and doors, then seal them with caulk or weather stripping.
As the winter months approach, staying cozy and comfortable within your home is one of the best ways to keep warm. While it's evident that you'll need to turn up the heat during this time of year, there are other ways to prevent cold drafts from seeping into your home. The first step: find gaps where cold drafts can seep in. These gaps could be around windows and doors, which many homeowners overlook when sealing their homes for winter!
To seal these gaps, use caulk or weather stripping (this will shrink with heat). To get rid of those pesky drafts around windows, start by tracing the hole with a pencil so you know how much material you need when cutting it down to size. Then use a hair dryer on low heat until everything has shrunken down enough to fit nicely into place alongside any existing caulking/weather stripping installed on walls.
Add blankets on beds and couches
Winter, the time when people are constantly complaining about how cold it is, is coming. There's no escaping it. If you're not ready for winter, here are some tips:
Add blankets on beds and couches so you can easily snuggle up without needing extra heat.
Fleece sweaters are hot if they're thick enough but won't make you sweat or get all stinky like wool sweaters do in hot weather!
Use area rugs instead of wall-to-wall carpeting to save money on heating bills and make your space more inviting.
In the same way, you don't want to be stuck listening to a friend drone on and on about their kid's latest soccer game. Your home shouldn't be forced to listen to your carpet's complaints. Rugs are like the quiet kids in the back of the class who understand you're there for them when no one else does; they don't interrupt or complain about being ignored by everyone else.
Like that quiet kid, rugs also allow you more freedom when choosing colours and patterns for other pieces of furniture in your home. They're easier to clean than wall-to-wall carpeting because they can be removed from rooms (or entire houses) when necessary—which is nice if you have kids or pets—and they'll last longer than most carpets since they can be replaced without having to re-carpet an entire room if they get stained (or just plain old dirty). Rugs are easy on your wallet, too. Since there isn't any extra cost involved with replacing them every few years, you save money over time by not having any significant upfront costs like installing new wall-to-wall carpeting every decade or so!
Buy warm throw blankets and fuzzy socks for guests visiting during colder months.
To keep your guests warm and cozy, you should make sure to have a variety of blankets and socks for them to use. In addition to the fact that it's rude only to provide one type of blanket or sock, you don't want your guests to get bored with what they're using!
Consider buying these items in a variety of colours, sizes, materials (cotton, faux fur), styles (loose weave vs. tight weave), patterns (stripes vs. polka dots), and designs (lion print).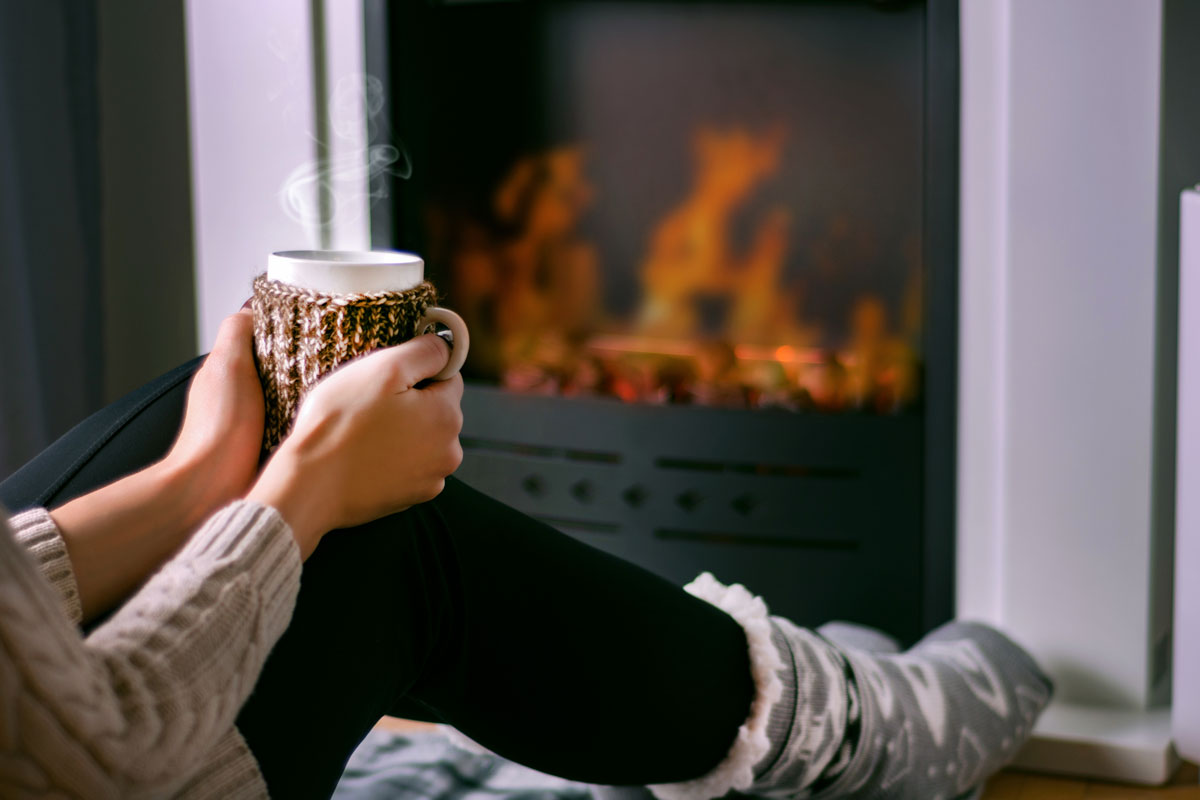 Warm up a cold room by turning on a space heater or fire in the fireplace.
If you're stuck in a drafty room, there are a few ways to warm things up. First, try turning on a space heater—but use them cautiously! Space heaters can cause fires and burns if they're not used properly. Ensure that children are never left unattended near any heater because they can burn themselves or even catch fire if they get too close.
Another option is lighting a fire in your fireplace (if you have one). This will undoubtedly help keep the house warmer for longer than just turning on an electric space heater; however, be aware of how much wood is going into the fireplace at once so as not to overfill it with fuel and risk damaging other objects around it (like furniture). If this isn't possible due to lack of access or weather conditions preventing safe use outdoors, consider using another type of heating source, such as an electric blanket instead – again, though, please remember safety first!
Hang out in warm rooms like kitchens and bathrooms as much as possible, or go outside if it's sunny!
During the winter months, make it a habit to hang out as much as possible in warm rooms like kitchens and bathrooms. This will help you stay warmer overall.
It's also vital to sit near a window if you can! The natural light that comes through windows is good for our health (and skin), so go ahead and bask in nature's warmth.
If you feel too cold, go outside—but only if it's sunny! Walking around in the snow while wearing layers of clothing can raise your body temperature faster than staying inside.
You don't have to crank up the heater all winter long!
Overheating your home wastes energy, leading to higher utility bills and a more complex living situation for you and your family. Luckily, there are plenty of simple ways to avoid this problem: You can take advantage of cold weather to keep your home warm and cozy without breaking the bank.
Turn down the heat. Turning down the heat is one of the most effective ways to reduce energy consumption in an occupied room (we're talking about ten degrees or so). This simple step can save you up to 20% on heating costs—and who doesn't want more money for presents?
Wear more clothing. Instead of turning on that extra space heater every time it gets chilly outside, just put on another layer! A wool sweater will keep you warmer than any appliance ever could; plus, it's cheaper than buying a new air conditioner when summer rolls around again next year!
With these tips and tricks, you can make this winter the warmest. So get out there and enjoy it!